We have this false idea that fairy tales are about weak and passive heroines, damsels in distress. So we are always fighting against a fairy tale legacy that doesn't exist.
Cinderella may be one of the most retold of the fairy tales in our society. And so rather by default, most often falls victim to the fairy tale legacy. This poor girl trapped in a life of cruelty and hardship until a prince pulls her out of it by making her his wife.
And while that is essentially the facts of the plot, I contest the "poor girl trapped" part. Disney's film is a relatively faithful retelling of the Charles Perrault story featured in Andrew Lang's Blue Fairy Book. The goodness and sweetness is there in the original story, though it loses some of its power in the film.
Like a lot of fairy tale heroines though, Cinderella's goodness "saves" her more than any prince. After all, her kindness and friendship is the reason the mice rescued her from the locked room. In the Perrault version she is so good you can't really believe her life would have turned out any other way than happily because of who she is. In the Disney's Cinderella, she is softer and almost saccharine sweet (it was really never my favorite of their films).
You miss the power of her kindness because they left out the part where she's gracious to her step-sisters at the balls even after they're horrible to her. But our culture equates that sort of gentle spirit with weakness when it is so far from it. It's easy to think that Disney reduced her to nothing more than soft and sweet – qualities we don't equate with strength or power.
But even in the Disney film, there can be so much more to her.
If Cinderella is a damsel in distress its because her step-mother makes her work hard, and denies her any sort of luxuries (like a soft bed). One could argue that hard work is a good thing that makes her stronger.
It's interesting, though, that in the Charles Perrault version, it's the step-sisters who are cruel to her and vicious with their words. The Grimm brothers (who I think earned their name with the tone of their fairy tales) took it to a much darker place with toes and heels being cut off. Perrault was my kind of fairy taleist. Her father doesn't actually die. He's just not a part of the story because Cinderella doesn't tell him about the hardship she's enduring.
But it's understandable why most versions have the father pass away at the beginning. I think the father has to be removed from her story because if he were there and he knew – he'd put a stop to it and protect her. In Perrault's story, he's the most passive character in the narrative, not the heroine we so often deride.
The key to Cinderella, that both makes her strong and interesting and powerful is that despite the hardship of her step-mother and the cruelty of her step-sisters and the passive ignorance of her father (or grief from his loss in other versions) she is still good and kind. She doesn't let any of that make her vicious or resentful or cruel.
We underestimate that so easily when Disney has made her almost sickeningly sweet. But there's incredible power in not letting awful circumstances turn you into an awful person.
Cinderella endures loss; endures pain and is still beautiful enough in her heart for the prince to be captivated by her. And one could also argue it's the fairy godmother who saves her more than the prince. He chooses her, because he loves her. Because her character is as radiant as her dress and her slippers. But he only had the chance because of the choices she made and the gifts of her fairy godmother.
Because she is strong willed. She defies her step-mother to make her own choices and take a chance on the life she wants.
Which is how you know, whether she fell in love with a prince or a pauper or no one at all, she would not have been trapped in that life of toil and an immense lack of love. She found love. She fought for it. She chose the life she wanted and others came around her to help because no one does it entirely on their own. She took a risk when the opportunity was granted to her and she did it all with the kindness and grace of a princess.
Pin it up: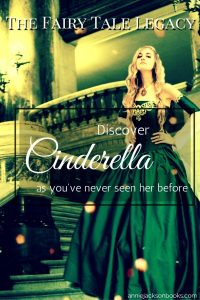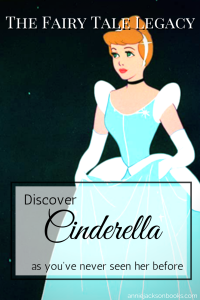 ---
THE FAIRY TALE LEGACIES
Sleeping Beauty | Cinderella | Beauty and the Beast | The Little Mermaid | Snow White and Rose Red | Rapunzel | Jasmine | Twelve Dancing Princesses | Snow White | The Snow Queen | Overview
Want to refresh your memory of the fairy tale? SurLaLune fairy tales has an annotated Charles Perrault version. And Angie has a great comparison of the fairy tale and Disney movie as part of her Project Disney.