If we're friends on goodreads you may have noticed I don't review books. I don't even really star them unless they're 4 or 5 stars.
This isn't just laziness, it's a calculated decision. See, I used to review books. I had so much fun breaking a book down and figuring out what I liked and didn't like and most importantly why. I always tried to find something positive in every book (which was tough sometimes but a good exercise) and make sure any criticisms were about the writing or my personal preference and not a judgment on the author. It was an important part of growing as a writer (and I had a lot of growing to do) but it was also a whole other way to engage with a book other than just reading it.
And then… there was this one review. Where clearly the flaws of the book were a result of an ineffectual editor. Which got me thinking. I'd worked in Hollywood long enough to know that no matter how removed you think you are from somebody there is every chance in the world your paths can cross either professionally or personally. If I was going to be a published author some day it was entirely likely I'd meet or work with this editor (whose name I honestly didn't even know). Before I posted the review I had to ask – Did I really want this critical review to be out there?
The quick answer was to just not say anything about that aspect of the book. You know, if you can't say something nice don't say anything at all. But if I started eliminating anything critical from my reviews am I then being less than honest? With myself even more than any authors or book friends – because really no one read my reviews but me and a few friends and family. And if I'm only ever positive, if I don't say anything at all am I being negative by omission? (clearly I over think things.)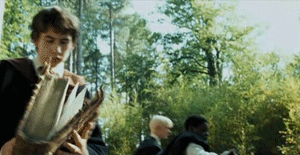 But then, there's also the aspect of just being a professional author. Stephen Spielberg once told Shia Labouf there's a time to be a human being and a time to sell cars. And I get that. An author is a reader and should be able to have their honest opinion but there's also times when it's appropriate to keep that honest opinion to yourself for the sake of professional courtesy.
It was a bit of a quandary and the answer I came up with was to just not review books. Not star them. Just shelve them and comment on friends reviews. So, before I transitioned my goodreads profile to an author profile I deleted all my reviews.
It seemed like it was working fine for a while.
Until Kelly at Oh, the books! mentioned in a comment that we might have similar tastes in books and she was going to check out my reviews. Suddenly, I thought, "She's not going to find anything…" And I had to start asking the question all over again.
The thing I hadn't considered before is that by not reviewing books I'm eliminating a pretty crucial aspect of the social engagement. I LOVE talking about books! I love hearing when people see things I missed and I like understanding why people disagree with me about a book and seeing it from their perspective. I still had that visibility into what everyone else thought but I was withholding my own perspective.
I wasn't giving anyone the chance to get to know me through my reactions to certain books.
And by extension, if I give people the chance to discover if we have similar tastes in the books we read, maybe they'll also like the book I wrote.
So, I've decided to take a page out of Erin Bowman's playbook. I'm going to start reviewing books again. And keep my comments positive or about my personal tastes. And I'm going to continue to leave comments all over the blogosphere when I find reviews for books I've read. Because it really is a lot of fun 🙂
What do you think? Should authors handle their review policy differently than other readers? Is there a time to sell cars or should we all just be human beings? Do you like when authors post reviews of other books? discuss…