This is the tale of an accidental bookmark collection. Which is an odd thing for a girl who finds bookmarks an implicit defeat when reading.
It starts at Westminster Abbey. Well, I suppose it starts a bit before that, sometime after I landed in the UK on a Monday, had lunch and decided to spend the afternoon walking around London. Which then led to Parliament and so of course Big Ben, and then Westminster Abbey. A service was near beginning so the lines were far too long to consider going in. But I told a friend I'd bring her back a post card and the shop outside Westminster seemed much more interesting than any of the tourists shops offering post cards. It was full of London gifts and Westminster Abbey themed odds and ends (as any good souvenir shop would be). But at the cash register there were also leather bookmarks. Which are small and practical and yet also carry some small vestige of significance. I mean, books and church and symbols and old leather bound volumes of history and prayers… they weren't a part of the bookmark but it reminded me of those sorts of things so I bought it.

Then went over to the eye, across the Thames, down to Charring Cross and then up to St. Paul's Cathedral. I covered an awful lot of sightseeing highlights in a single afternoon in addition to familiarizing myself with the tube system (very efficient).
Tuesday through the first half of Friday was all work. Which, after all, was the reason I was there. Many people told me that the places I went are not the best parts of England (Bracknell, Feltham, Birmingham and Wokingham). But I had a good dinner each night and stayed in an old English manor house so it was cool.
Friday night on the way to dinner we went through Piccadilly Circus and Leicester Square. Being a Friday night, though fairly early, everything was a bit busy which was fun. Then, after dinner, I had to go back to the hotel and work for a few hours. Which, on one hand I didn't love, but also I was working at a hotel in London so I really couldn't complain.
Which leads us not to a bookmark but to a pen. And the first of many instances where being a morning person paid off. Because I was picked up at my hotel at 7:20am. So, that was fun. But I got to go into the Tower of London before it fully opened to the public which allowed for pictures not entirely crowded with other people. It's so interesting to feel the weight of history there. And to see the place where they executed queens.

I hadn't expected that my trip would also be research for my novels. But the Tower of London quickly convinced me. There was unexpected richness in the structure of the castles, the history of the monarchy and the protocols of court across the dynasties that so seamlessly became ideas for novels. But there were no bookmarks. At least, no good ones that didn't focus on bloody torture and executions. There was a very small pen covered in engravings of the British flag that said Tower of London and pens are bookish sorts of things and small ones are even better (especially if the are fine tip which this one is not). I'm an author who has a small British pen in her purse. In some ways it's cool and in some ways it reminds me of my grandmother.
Then after the Tower of London I took a short boat cruise down the Thames. Because I had already traveled by airplane and train, London taxi cab and double-decker bus. It only made sense to complete the transportation options.
I ended up at Buckingham Palace (which I will forewarn you also did not have good bookmarks but was far from boring). The State Rooms are available to tour this time of year which worked out perfectly. I was able to exchange my Sunday morning admission for Saturday afternoon. I walked down to Trafalgar Square and got lunch, hung around for a while, emailed some friends. Then I walked back and took pictures outside Buckingham Palace and sat on the grass for a bit and read. Not an actual book, so I didn't have the chance to use my one (at this point) bookmark. But sitting on the grass outside Buckingham Palace and reading was still pretty cool.

The State Rooms, were interesting, if you will allow me a moment to deviate from my tale. In contrast to London Tower it felt much more like a modern monarchy. I'd sort of thought of the current monarchy as a different sort of celebrity, a higher form but still the same kind of element. But it's distinctly different. I've long ago lost the sense of celebrities as something distant. They're just actors with exciting (and very well paying) jobs. But anyone who is less than six degrees removed from you is someone you could walk down to set and talk to or run into at a party or who might just walk into work one morning. But the monarchy is set behind walls and fences. There is absolutely that sense of them being remote. And walking through the palace there's this sense of living history, of moments and people being memorialized in a much more lasting and significant way than even the most acclaimed celebrities.
But I digress. In lieu of a bookmark I had tea at the garden cafe at Buckingham Palace. Broke my Thor phone cover. Dropped my phone on the ground (not at the shock of having broken Thor – but moments after).
Cracked the screen of course. And not just a little bit. Burned my tongue on the tea. Still enjoyed the walk through the edge of the gardens while drinking said tea. Hope to have a better encounter with Buckingham Palace next time.
Kensington Palace was much kinder to me on Sunday morning. It was something of a blend of the history of the Tower of London and the modern monarchy of Buckingham Palace. I appreciated the separation of the different dynasties, the different artwork and architecture between them, the progression of history. You can expect to see elements of the Hanover dynasty in an upcoming novel; though I won't say yet which one. And there were lovely leather bookmarks with flowers and things so of course that was added to the collection (which, now that I had two, I feel is fair to begin to refer to as a collection). I think if I were royal I'd live in Kensington Palace for the gardens.

It was barely starting to sprinkle when I was going to leave so I decided to sit for a bit and read while, of course, drinking tea. That worked out for a little while. Then when I stood up to walk the gardens while drinking tea it spilled all over me. I don't know why all the tea in England disliked me so much. Once I'd cleaned myself up I pursued my course to walk through the gardens. So naturally the downpour started. I was under an arch of leaves and vines – what's the technical term for that? Which made the whole moment kind of cool until it started coming through and then I ran, drenching, back to the cafe. It passed fairly quickly, though which was nice.
Sunday afternoon was the surprise bookmark in this tale. I met with Asti at a pub to also meet Victoria Schwab and Amie Kaufman. I will confess that I have not read any of Victoria's books so while she was perfectly nice and interesting, she was not the highlight of the afternoon. Amie was super fun and slightly hungry and also somewhat tired. She understood that I was travelling light and gave me a bookmark signed by both her and Meg Spooner. I now officially had a collection (of three)! Asti was, actually, the highlight of the afternoon. She was so much fun – just to get to talk in person and laugh and have a good time talking about books and blogging and life was fantastic. She also had a preview of this tale, though without pictures.
My final bookmark was hard won. Getting to Windsor Castle, first from London then from my hotel was the least simple and straightforward of my UK endeavors. One of the concierges phrased it as requiring a bit of fuffing but I'm not entirely convinced that's a term one uses in polite company – though he was a very polite concierge at a rather nice hotel. So, maybe.
Either way, I eventually made it to Windsor Castle. Totally worth it. It is so gorgeous and an actual castle and the State Rooms are beautiful and filled with history and it's all rather magnificent. Elements of Windsor Castle are also going to show up in a novel some day.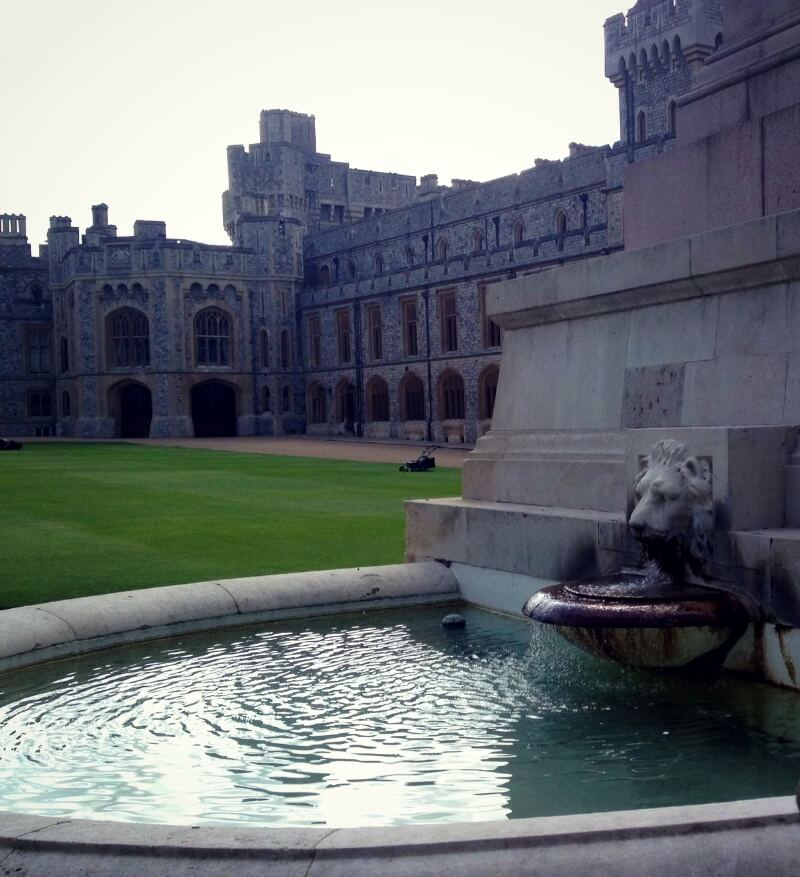 While there I also went into St. George's Chapel. It was beautiful and the architecture was amazing. But it was so different from St. John's Chapel at the Tower of London which was quiet and humble. I understand the builders wanting to express the magnificence of God in the grandeur of it, but it's so easy for that grandeur to become about the building and not about God. St. George's felt like a place where you're in awe of the building – St. John's felt like a holy place where you're in awe of God. And I don't think that's what people intended – I like to think they're hearts were in a good place, that's just how it felt to me.
The moat garden was amazing; beautiful in its simplicity and wonderful in a castle covered everywhere else in stone. That's going to be in a novel too. The roses, the exquisitely red roses with the most lovely scent, will be in all the novels. But they will be my version of such roses.
And of course there were beautiful black and gold leather bookmarks to complete the collection. And so ends my tale, of vicious tea and astounding roses both inhabiting castles and palaces and regaling my imagination.
And I managed to be in a few of my pictures – as proof someday that I really was there.