I binge a lot of things. Not just tv. I binge social media, cooking, writing blog posts, all sorts of things (except, you know, exercise but I'm working on that). When it comes to binging social media, a scheduler is vital. Otherwise I overwhelm my followers and then I'm completely absent and both mean I get lost in everyone's feeds.
I've tried several different schedulers from Tailwind to Board booster, Hootesuite and now Viraltag. Without a doubt, Viraltag is my favorite of them all.
Clean Interface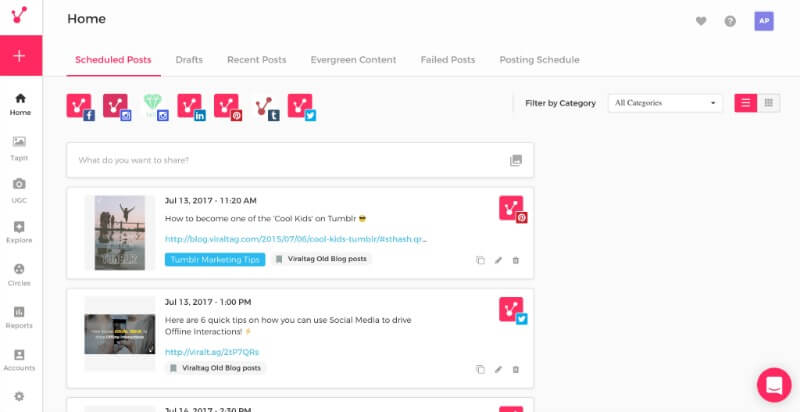 The dashboard is the easiest! None of the other schedulers I've used have such a modern, clean dashboard. They either have so much going on that they're chaotic or some information is spread out over too much space and other information is squished and hard to read. Viraltag makes it super easy to see all your content and to navigate.

It has all the options you'd expect:
Board lists to easily bulk schedule on Pinterest
East draft mode to sort through posts before scheduling them (with a preview)
Manual schedule building and optimal time suggestions
Reporting and analytics to see the effectiveness of your posts
The difference with Viraltag is that it makes all of those things super easy across all your connected accounts, not just one.
It's also beyond easy to schedule a single post to all your connected accounts in just a couple of clicks.
The only thing I wish they had was a delay in bulk scheduling for Pinterest. So you could assign a post to a board list along with a 2 or 3 day delay and then they'd queue into your schedule with that interval instead of all at once. That being said, it's so easy to schedule drafts that I scheduled 3 weeks worth of posts in about 30 minutes.
Versatility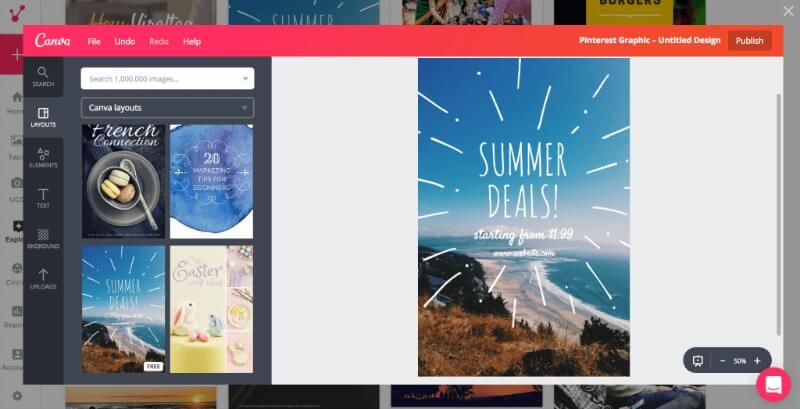 Viraltag handles scheduling posts across multiple accounts, including both Pinterest and Instagram. Lots of services schedule Twitter. A few specialize in Pinterest. But to have the versatility of Pinterest, Instagram, Twitter and Facebook (among others) is unique. And great.
It makes Viraltag a one stop shop to schedule all my social media instead of needing a few different tools to handle different accounts.
Viraltag also integrates with Canva so you can create graphics and schedule them in one fell swoop.

And the Explore tab is basically a visual rss feed, making it quick and simple to schedule posts from blogs you follow.
With all that functionality, it's remarkably simple to figure out how it all works. And if you have any questions, Viraltag's customer service team is friendly, responsive and helpful.
Measurable Results

I stopped blogging for about a year. So my traffic, quite understandably, pretty much vanished. When I wanted to get started again I spent a few weeks writing posts and creating graphics. As they went live, a few friends noticed and came by to check out my new posts which I really enjoyed. And pretty much no one else noticed. Because content, no matter how good, doesn't go anywhere when no one knows.
On April 12th Viraltag scheduled my first post on Pinterest. On April 16th I had 242 visitors. And on April 17th I had 1,370. On April 18th I had almost 2,000 While that's not astronomical, 0-2000 in 7 days was enough to make me want to write this post.

To be fair, it wasn't just Viraltag. Sure, it was a key tool, but I had to create good content first. I spent a few weeks:
Crafting what I had to say in a way that's helpful to others
Creating multiple graphics for each post
Writing headlines to invite people to learn more (I really like CoSchedule's headline analyzer)
There's a synergy when carefully crafted content is shared effectively.
So, you guys know I don't normally post things like this. But I was so excited and so impressed I couldn't help myself. Viraltag makes it easy to give them a spin for 14 days. That's a referral link – if you don't want to click it, go search them and check them out. And if you do try them, let me know. I'd love to her how it worked out for you!
Pin it up: